This weekend I was supposed to be off to North Yorkshire for a weekend dog agility event. Unfortunately due to a family emergency we were forced to change plans. So yesterday I found my self at home and in between doing some much needed odd jobs I had the chance to get out the 2 meter YAGI and capture a couple of passes of those Russian navigation satellites I blogged about last week.
Each pass lasted the best part of 15 minutes from the first faint signal acquisition to finally losing it as it sped out of range. Below is an except from the first pass at around 10:00 UTC. The signal is clear and the different tones used can be clearly distinguished. These captures should prove useful for testing any decoder.
Russian Parus Satellite 27-11-2011 by nerdsville
It is quite fun standing with the antenna and pointing in the direction where I expecting the satellite to appear and then once the signal is acquired then fettling it during the pass to maintain the best signal strength.
Not sure what my neighbours are making of all these antics, perhaps I should try to find that extension cable so I can use headphones to monitor the pass rather than letting it blast out the laptop speaker! It must look odd me standing there waving an huge antenna about and receiving strange foreign voices (from the ARISSat-1 satellite) and now this weird 'morse code'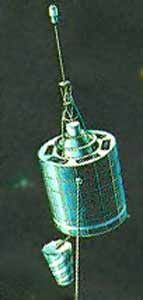 Dasvidania!