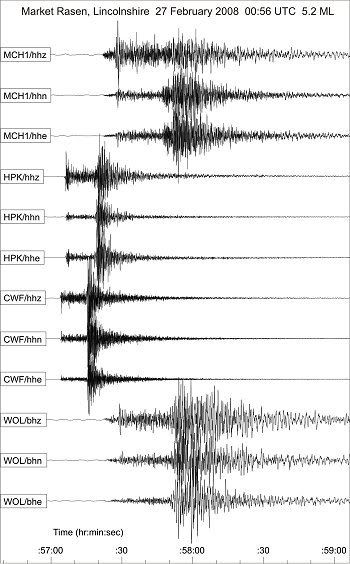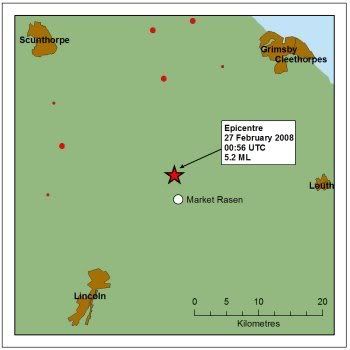 Preliminary report from the British Geological Survey

PRESS RELEASE
27 February 2008
England hit by Earthquake
The British Geological Survey (BGS) recorded an earthquake with a magnitude of 5.2 (ML) on the Richter scale near Market Rasen, Lincolnshire at 00:56 GMT. The BGS has been inundated with calls from the public, media and emergency services throughout England.
Summary:
DATE : 27 February 2008
ORIGIN TIME : 00:56 GMT
LAT/LONG : 53.42° North / 0.35° West
GRID REF : 509.4 kmE / 392.7 kmN
DEPTH : 5.0 km
MAGNITUDE : 5.2 Richter Scale (ML)
LOCALITY : Market Rasen, Lincolnshire
The epicentre is approximately 4 km north of Market Rasen and reports suggest that the earthquake has been felt widely across England, with reports of damage to chimneys in the epicentral area. Earthquakes of this size occur in the mainland UK roughly every 30 years, although are more common in offshore areas. This is the largest earthquake in the UK since the magnitude 5.4 ML Lleyn Peninsula earthquake in 1984, which was widely felt across England and Wales.
Seismologist Dr Brian Baptie of the British Geological Survey said:
"The is a significant earthquake for the UK and will have been widely felt across England and Wales".
The BGS records approximately 200 earthquakes in the UK each year on its monitoring stations. Approximately 25 earthquakes in the UK are felt by people each year.
The full press release can be downloaded here
That was an interesting night luckily there appears to be very little damage and casualties. This is the 3rd tremor I have felt in the UK during my lifetime, the others being the big one in 1984, and I vividly remember this one as some book shelves fell down where I was working.
I am kicking myself because I purchased a copy of Electronic Sensors for the Evil Genius book a few months back and had the intention of building a seismograph. There was also plans for another seismograph project in the October 2007 of Everyday Practical Electronics Magazine but the world is full of good intentions!