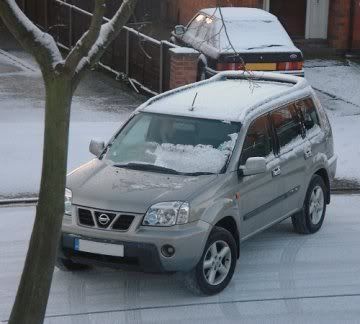 Spent most of yesterday wandering around the dismal streets of Grantham passing time while I waited for my car to have some repairs. It is a 2003 Nissan X-Trail which has now done over 93,000 (approx 150,000 kilometers) It had developed a rattling sound which I suspected was related to the exhaust and the rear wiper had stopped working. I was willing to live with both of these till the next service, but last week I noticed one of the rear brake disks was badly rusty which indicated that the brake was inoperable/seized. I pumped the brake hard a few times and it seemed to do the trick as the rust subsequently disappeared. However I take no risks with brakes and booked it in to the garage to have them checked and have the other problems sorted.
The problem with the brake turned out to be due to one of the pads jamming in the slide (no idea what that means!) and had badly worn as a result. The pads have been replaced and the brakes checked. The rattling was a loose shield protecting the exhaust which was easily rectified.
The problem with the rear wiper was a seized motor, now came the shock…. a replacement is £200 plus half an hour of labour + VAT – total quote £270!! So now I am trying to find a second hand one (from a breaker, ebay etc) or failing that I may attempt to repair mine. Thankfully it seems the rear wiper doesn't form part of the MOT test.