I came down with a severe case of man-flu early last week but recovered sufficiently to travel to Birmingham and The National Indoor Arena on Friday evening to see Jean Michel Jarre in concert. We almost didn't go because I was still feeling unwell and the wife is having problems with her back and was recovering from an epidural steroid injection. I was glad we did go as it was a good night and a very impressive show both aurally and visually, just wish venues could see their way to giving an extra couple of inches legroom!
I had read in a pithy review of an early show that Jean Michel was actively encouraging the use of digital cameras and iPhones during his preformance so decided I would take my aging Casio EX-Z120 digital camera along. Arriving at the NIA we were met with signs banning the use of ALL photographic and recording equipment! Despite this I managed to take the camera in unchallenged and so did many others judging by the vast number of illuminated LCD viewfinder screens visible in the audience during certain parts of the performance.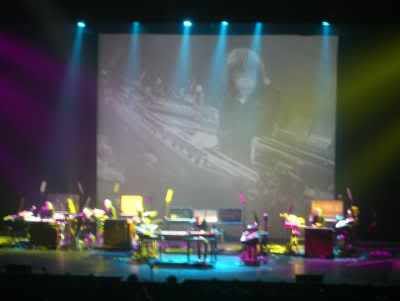 One slightly annoying point of the evening was one particularly over-zealous steward who seemed to spend the entire evening tapping people on the shoulder or shining his torch into the faces of anyone who dared tried to make a digital memento of the evening – thankfully I was too ensconced in the crowd and was a little less obvious in my actions for him to pick me out, but he did target someone sitting just three seats away!
How ironic then on the last song of the evening Jean Michel did indeed ask the audience to send out a signal using their cameras on Facebook and YouTube! Unfortunately at this point I had already exhausted my memory card (I hadn't took my spare!)
I have uploaded a number of short highlights onto my YouTube Channel.