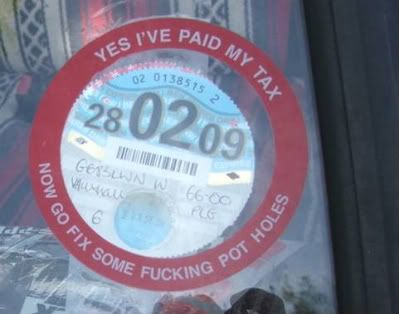 Well my Nissan X-Trail went in for some work today, I've blogged about previous repair work before. This time I was sure the rear brakes were playing up again and the car insisted on wobbling around instead of going in a straight line.
Turned out the wobble was due to a broken track-rod and anti-roll bar joint (suspect the dire state of the local roads and a pot-hole were responsible) a couple of new parts and it is all back on the straight and narrow for a reasonable £120 at a local independent repairer. The brakes have been checked and I have been assured are okay.
The car is now over 5 years old and has done a respectable 109,000 miles (approx 175,500 km) and 'she who must be obeyed' is hinting that we really should think about replacing it. I am not so sure, true there are lots of very good deals around at the moment but I still don't want to shell out lots of money and take on any sort of debt.
One thing that was cited in our 'discussion' was that the broken rear wiper motor still hadn't been replaced despite failing last year! So today I decided to do something about it and searched on the Internet for a cheap 'used' replacement (a new one had been quoted at £270!) I googled and found BreakerLink. The idea of the site is you enter the details of the part you are looking for, then the request is instantly forwarded to a network of independent vehicle dismantlers nationwide. If any of the dismantlers has the parts in stock they contact you quoting a price including VAT and delivery. Once you have a few quotes, you simply choose the best quote for you and then contact that dismantler direct to place your order.
I received four quotes within an hour ranging from £75 to £100, I opted for one from a dealer in Manchester, hopefully it will arrive tomorrow for the princely sum of £80. The motor assembly comes off a 2006 vehicle and is in very good condition, we shall see!