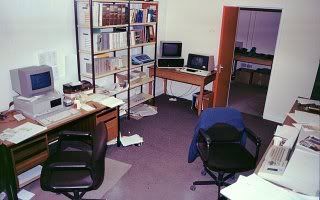 Today I had my first job interview for the best part of 20 years, previously have slid between positions due to insider knowledge and social connections.
Well to be honest I think I made a complete hash of it, I suffered a bit of nerves and had brain fade when asked some fairly simple questions about C++. Shame really as the set up was very similar to the place where I first started working, a couple of guys in an office (some old pictures attached). I am sure if I get/got my feet under the table I will/would have got back up to speed. The project looked interesting too.
I think the main problem I suffer is that I have used C++, but it was a self taught progression from C, no proper training or education just a copy of Teach Yourself C++ in 24 hours or something as useless while trying to complete the next project. So I have an "understanding" of the principals but when it comes to trying to use the proper terminology I struggle.
I really need to sharpen (C#en?) my skills and get out the books and do a bit of coding at home.