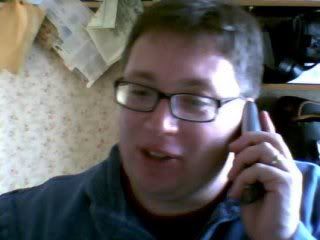 I am still mega angry over my mum's robbery and it has taken the shine off today's retail therapy event.
It's been over 4 years since I brought myself some new spectacles and they were quite frankly falling apart, so been off and got myself some new ones! I took advantage of Boots' 2-for-1 offer so in addition to the boring/obligatory wire framed ones I opted for a pair of web2.0 designer styled ones!
What do you think?
Thats me talking to my mum on the phone at least she has cheered up a little now.