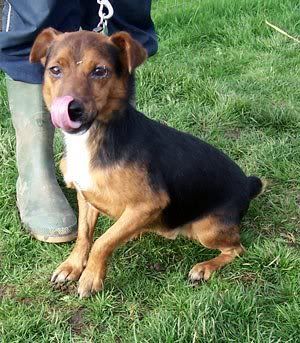 Basil at the rescue centre last year
It was a year ago this week that we re-homed Basil, a handsome little terrier dog. Initially things went well but it became obvious he had some behavioural problems. Basil would be loving and relaxed one minute and then would flip for no apparent reason and become aggressive, unfortunately often targeting our old boy Charlie, they both ended up at the vets a number of times to be stitched up and treated.
We gave Basil second, third, fourth, fifth…. chances and went out of our way to modify his behaviour with training and activities but following yet another unprovoked episode in September where both Charlie and my wife got badly bitten, requiring treatment at A&E, we said enough was enough and sadly had Basil put to sleep.
We made the decision following consultation with the rescue centre and our vet we all came to the sad conclusion that his brain really wasn't quite wired correctly, or his wiring had been damaged by abuse in his past. We were aware that Basil had been re-homed previous to us taking him on and had been returned due to 'nervous' aggression, something I witnessed at our very first meeting, but we thought with our active 'doggy' orientated lifestyle and experience that we could cure him of it. Sadly we were wrong.
Despite these episodes Basil had some excellent times with us, visiting the Lake District, the North York Moors he'd been on the mountains, fells, moors and beach as well as attending load of agility and other dog shows. He had a big pile of toys he loved to play with, He really was a sweet, handsome little dog unfortunately with this unpredictable Jekyll and Hyde split personality, we loved him to bits and it was a hard, heart-breaking decision to make.
When I racked with grief and remorse I made this small video to remember him by.
Last year was a horrible year as we also lost our two old dogs Toby (in May) and Fred (in October) to old age and illness. Toby was over 17 years old, he had lived with us for 15 years and Fred was 14, living with us for 11 years.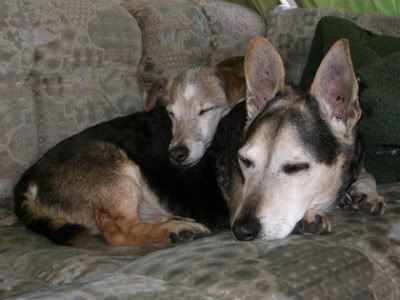 Toby and Fred asleep in happier times.
Since then we have re-homed another dog who was gifted to us by an old friend. Eddie is a lovely Pembrokeshire Corgi puppy who whilst being a full five-generation pedigree has got an overshot top jaw and has developed a wavy long coat which is not in keeping with his 'breed standard.' None of this will prevent us giving him love and an active long life.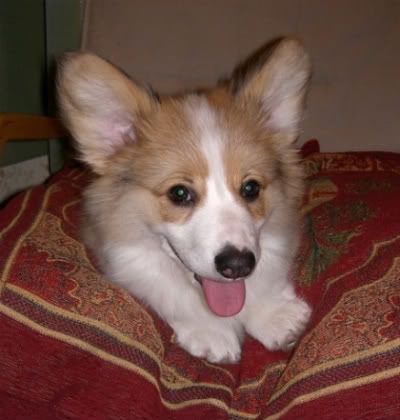 Eddie just after we re-homed at the end of October