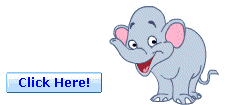 I am old enough to remember when sending HTML formatted email was considered a serious crime, unfortunately it is now it is an accepted practice in the online world. However I am still of the opinion that it is still evil and so are other people.
If you really want to send a message that cannot be conveyed in plain text, then send it as an attached document in your format of preference.
I am pragmatic enough to accept it's use is now widespread and there is nothing I can do to prevent it but I don't accept the fact I have to tolerate the horror that is IncrediMail.
This hideous piece of software seemingly beloved of AOL users, tacks on a huge animated GIF on the end of every mail they send, as well as ridiculous animated versions of emoticons.
Free animations for your email – by IncrediMail!
It proudly announces and to the right of this text is a button labelled click here despite the entire animated image being a link. Further along we come to the animated cartoon elephant! This obviously brain-damaged pachyderm continually raising and lowering his trunk, mouth agape in a ridiculous smile. All that is missing is an animated droplet of drool out of the corner of it's mouth.
If you are the sort of person who thinks stone cladding on a Georgian red-brick terrace house adds value and putting gnomes in your garden and having black and white painted cartwheels fixed to the side of your house scream sophistication then you should really pop along to their website