As a newly licensed amateur I was looking forward to this year's National Hamfest and had an enjoyable time with my brother and both of us spent some money, but nothing too extravagant.
As well as the normal plugs/adapters I splashed out on a huge tube of thermal compound to hopefully have another go at getting an old laptop working again. I got a second Baofeng UV-5R+ handheld and a Nagoya NA-771 dual-band whip from Handyradio. A large magmount and a stupidly big 2m/70cm dual-band antenna for mobile use from Moonraker! In retrospect I perhaps should have gone for something a bit less conspicuous but wanted something with a bit of gain and it was only £15! A cheap and cheerful power-swr meter from Waters & Stanton and finally the 2014 RSGB yearbook (with a free goodie bag) completed my purchases.
This was the fourth year of attending and this year I did find it slightly disappointing compared to previous years maybe it was because I went with the silly notion of picking up a decent HF and/or VHF/UHF all-modes transceiver for next to nothing. Doh!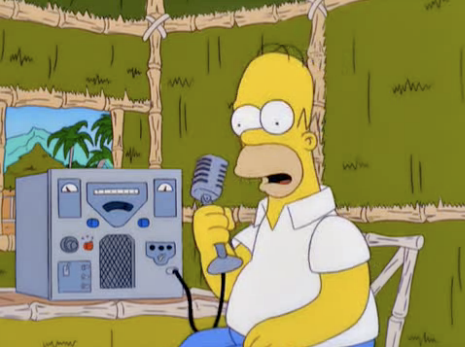 There was plenty of second-hand equipment both in the hall and in the car-boot sale outside but most of looked like junk and seemed overpriced. I am sure there were bargains to be had but being a newcomer I am not skilled or confident enough yet to take the risk.
The RSGB bookshop seemed to have a smaller range of titles available than previous years and they didn't have the one book I wanted to peruse before deciding whether to purchase it.
The usual main dealers were there and this year there seemed to be more show deals, I noticed on the Moonraker stand most of their products were marked down from the usual list price. Not massive savings but enough to sway me to make some purchases.
I was very tempted by the Yaesu FT-857D that was for sale on the ML&S stand for £619 but I think it will have to wait for a few months (years) to replenish my funds before making the investment. Though we did get free hats from the Yaesu stand!
My baby brother enjoying his Double Decker
I did manage to meet up with Nigel and Andy from M0CVO antennas, Nigel is also the chairman of SKARS a local club and I hope to attend one of their meetings very soon, especially as they are planning some HAB launches of their own.
From my naive point of view it would be nice if the Hamfest was a little less about selling things and had more information about special interest groups and activities. Maybe that is the function of other events such as the RSGB Convention and the various conferences but the interest groups and information points there were seemed scattered around the hall. For instance the first year I attended I also signed up for the Group for Earth Observation (GEO) group.
Don't misunderstand that is just a minor gripe, the Hamfest being on the doorstep it was still a great way to spend the day, next year I plan to attend on the Friday rather than the Saturday something tells me there may be more bargains to be had then.